MB - Via Ferrata
What You Need To Know
Asia's first Via Ferrata located in UNESCO World Heritage site (Grade: French PD, Italian 2A)
Walk The Torq, Asia's first Via Ferrata is an introductory route offering everyone a taste of Via Ferrata climbing. Experience the thrill of walking above the clouds and having a bird's eye view of the valleys and villages below.
At 3,521m a.s.l, this initiation route is designed for the beginner in mind. It is a leisurely 2-3 hour climb offering dramatic mountain vistas with opportunities to enjoy the scenic view while being securely fasted to side of the mountain. Reward yourself as you feel your spirit soar with the spectacular views and take photos to show your friends later.
Walk The Torq (WTT)

'A Walk In The Clouds'
Duration: 2hrs
Grading: French Grading PD - Easy, suitable for beginners, children and senior citizens.
Capacity: Maximum of 40 slots for WTT activity available per day. 5 persons to 1 Mountain Torq trainer / guide.
Take your first steps on the world's highest via ferrata and learn how to Walk The Torq.
Walk The Torq is an initiation for those who want to build their confidence in via ferrata climbing.
KEY FACTS
- Highest point at 3,520m a.s.l
- Vertical ladder (7m length)
HIGHLIGHTS
- Walk like a monkey on the Monkey Bridge

- Zip on the Tyrolean traverse

- Be an acrobat on the Balancing beam
DESIGNED FOR
- Groups with a range of ages

- Minimum age of 10 years old
- Average fitness and interested to try something new!
- The young at heart who is game for everything!
source: courtesy of Mountain Torq™
Traverse the world's highest and Asia's first Via Ferrata - even without any mountaineering experience! Don't worry, for there's always an experienced Mountain Torq trainer to lead the way. With over 1km of carefully planned out activity routes, our participants enjoy the full experience of mountaineering in a safe and controlled environment.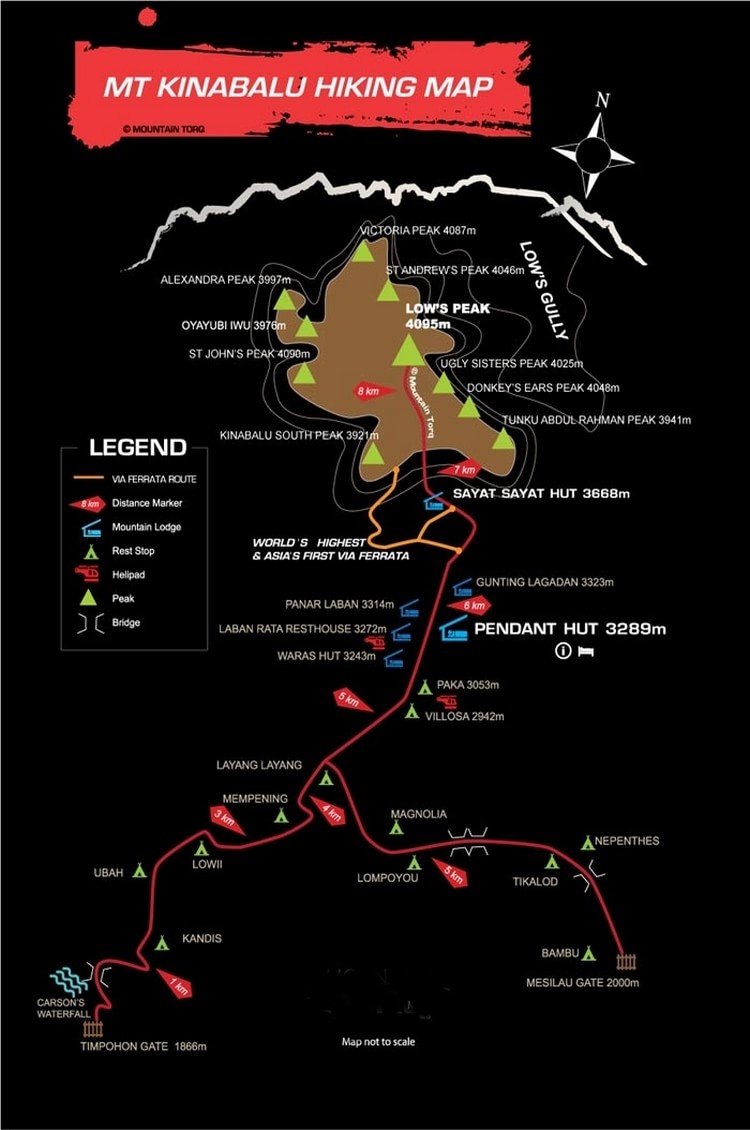 Mountain Kinabalu Trail Map
Choose one of the following activities:
Walk The Torq Route
Low's Peak Circuit Route
source: courtesy of Mountain Torq™
Common Questions
A Via Ferrata (or "iron road" in Italian) is a protected mountain path comprising a series of rungs, rails and cables embracing the rock face. It allows access to scenic sections of the mountains that are typically available only to experienced rock climbers and mountaineers.
The Via Ferrata experience is one that's not to be missed. Feel the natural surroundings, the exhilaration, and sense of personal achievement when you complete the circuit.
Is Via Ferrata is the same as rock climbing?
No, Via Ferrata climbing is not the same as rock climbing. While both activities occur in the same area and in the same environment, climbing the Via Ferrata is easier than rock climbing and prior experience is not required.
Mountain Torq runs the world's highest and Asia's first Via Ferrata that starts at 3,200m and ends off at 3,776m above sea level on Mount Kinabalu in Sabah. Mountain Torq enables climbers and non-climbers to experience the thrill of mountain climbing while taking in the spectacular surroundings.
Who can climb a Via Ferrata?
Almost anyone. You can climb Mountain Torq's Via Ferrata as long as you're aged between 10 and 70 with a minimum height of 1.3m, are fit and healthy, are not afraid of heights, and would like to experience the mountain in a whole new way.
Do I need any climbing experience?
Not at all! If you can climb a ladder, you can climb Mountain Torq's Via Ferrata.
Can I miss the pre-activity breifing conducted the day I arrive?
All customers are required to attend the mandatory pre-activity briefing and familiarization session. The sessions start between 3pm and 4pm. Late arrivals may not be considered eligible to participate in the activity the next morning. This is for your own safety, be it if you are a first timer climber or an experienced mountaineer.
How can I ensure that I arrive to Pendant Hut by 3pm?
As long as you condition your body before coming (refer trip preparation) and ensure that you start hiking up from Timpohon Gate latest by 8:30am. You will have a 90% chance of arriving at Pendant Hut in time to have a cup of tea before attending the briefing session.
Will there be someone to guide me?
Yes, you and your group will be assigned with a Mountain Torq trainer. The experts will be there to give you a full safety briefing and train you on the proper use of safety devices. They will also climb with you, provide tips on negotiating difficult obstacles and point out spectacular sights along the way.
Can I climb the Via Ferrata without a Mountain Torq trainer?
No. Sabah Park safety regulations require that Via Ferrata climbers are to be accompanied by a Mountain Torq trainer at all times.
Is the Mountain Torq trainer only for me or my group?
Depending on the size of your group, you will have to be prepared to join other Via Ferrata climbers.
What is the max. no of people who will be climbing the Via Ferrata with me?
There will be a maximum of 6 climbers per group/Mountain Torq trainer.
Do I really need a mountain guide even on Mt. Kinabalu?
Yes. Sabah Park safety regulations require that climbers and hikers are to be accompanied by a Sabah Park mountain guide during your ascent and decent on the main hiking and summit trail. The Mountain Torq trainer will be with you mainly during your Mountain Torq activities.
What does the Via Ferrata activity package include?
With Mountain Torq, you can enjoy:
- Free rental of all safety devices: harness, lanyard and helmet
- Via Ferrata familiarisation for all participants
- Guiding services of our Mountain Torq trainers
What time do I start my Via Ferrata activity?
Our start time is between 6.30am and 7.15am
Where do we meet the Mountain Torq team for the activities?
On the day of your arrival, we will meet you at Pendant Hut where you will undergo a mandatory briefing and familiarization session starting between 3pm and 4pm. There, we will tell you the exact meeting point and meeting times for the activities that you've signed up for and provide a practical session with the full Via Ferrata safety gear.
What if I want to climb the Via Ferrata at the break of dawn?
Due to safety reasons, we do not bring clients up on the Via Ferrata before day break.
As an advocate for responsible climbing, Mountain Torq ensures that safety standards are adhered to at all times. It is mandatory that the trainers undergo regular skills certification and upgrading with training standards and syllabus endorsed by the International Climbing and Mountaineering Federation (UIAA). Regular safety checks and maintenance are also conducted on the Via Ferrata equipment. So all you need to do is focus on enjoying yourself.
How do take part in Via Ferrata activities?
To ensure that you have a guaranteed slots, we strongly encourage advanced bookings. You can make a booking for these activities with us.
Do I have to reach summit Mt. Kinabalu before I attempt the Via Ferrata?
The Via Ferrata is a stand alone activity from the summit attempt. Climbers may choose to summit Mt. Kinabalu and then proceed for their selected Via Ferrata activity or climbers may choose to forgo the summit before attempt and head directly for the Via Ferrrata - this second option most likely to give climbers more time to enjoy the Via Ferrata, but that does not mean you have to forgo the summit attempt, do look at your physical condition at that point in time and decide wisely.
Will the activity be cancelled in the event of bad weather? and then what happens?
Unfortunately, we are at the mercy of the weather up here at 3,200m a.s.l. While we would like to let all climbers attempt the activities despite the weather conditions, safety DOES come first. The Via Ferrata route in clear weather is exciting enough but in rainy, windy and stormy conditions, it will be too thrilling even for the avid mountaineer.
In the event of bad weather, the planned activities can and will be cancelled just like how the summit attempt to Low's Peak (4095.2m a.s.l.) will be cancelled in the event of bad weather.
There would be no refunds but we can suggest that a second night on the mountain may be arranged for at Panalaban area - either at Pendant Hut or Laban Rata Resthouse (Sutera Sanctuary Lodges). This is however subjected to availability as well as the availability of the mountain guide allocated to you (all at you own additional expense).
How much time do I need to spend on Mt. Kinabalu?
You should set aside at least 3 days (3 days 2 nights) to fully enjoy on what the enchanting mountain have to offer.
Can I bring my own camera?
Yes, indeed! Do bring your own camera to capture these special moments. Don't forget to secure your camera with a cord to minimize any risks of dropping it. You will however be required to to keep your camera in your backpack during activities to reduce the risks of dropping it while climbing, and as a result injuring an unsuspecting fellow climber below you. Don't worry, we will advise you on the most ideal and scenic spots where you can whip your camera out for those treasured snapshots.
source: courtesy of Mountain Torq™
There are a variety of via ferrata grading systems, with the sole purpose of providing you with a guideline as to the difficulty of each via ferrata route. We recommend beginners to start with easy routes before going on to more difficult routes.
Following are the most popularly used grading system:
FRENCH GRADING SYSTEM
This is one of the most straight forward grading systems, but you must be aware of the difficulty range that each level covers.
F - Facile
Easy, suitable for initiation into the sport
PD - Peu Difficile
Not very hard, suitable for beginners and possible children
AD - Assez Difficile
Fairly hard, suitable for accompanied beginners
D - Difficile
Difficult, for those accustomed to the sport
TD - Tres Difficile
Very difficult, physically demanding, for regular participants
ED - Extremement Difficile
Extremely difficult, very physically demanding and suitable for experienced practitioners with a high level of fitness
ITALIAN GRADING SYSTEM
This system was developed mainly for mountain based via ferate and it is a little more complicated. It takes into account the terrain (Fletcher/Smith) and the technical (Hofler/Werner) skills required for each individual route. Both the Fletcher/Smith and the Hofler/Werner rating have to be used together for a proper rating to be established.
Fletcher/Smith Rating
3 - Difficult and not for novice
4 - Demanding, steep ascending, require a degree of mountaineering experience
5 - Highest technical standard, only for the experienced mountaineer
Hofler/Werner Rating
A

- For foot sure mountain walkers, easy and without problems
B

- For foot sure mountain walkers free of vertigo, easy
C - Sure footedness and freedom from vertigo necesssary
D - Absolute sure footedness and freedom from vertigo necessary
E - Additional mountain experience and climbing ability necessary
F - Good climbing technique on very steep rock required
MOUNTAIN TORQ'S GRADING EXAMPLE
Low's Peak Circuit -

French AD, Italian 3C
Walk the Torq -

French PD, Italian 2A
Caution:
Grading systems are only a guideline, not a rule.
Choose your route carefully based on your own abilities.
Keeping in mind that it is in a mountain environment.
source: courtesy of Mountain Torq ™
An avid climber or a novice? Climb with us! Mountain Torq's Via Ferrata is designed for anyone who is able to scale Mount Kinabalu and who wants to take the experience to even greater heights.
Experience the thrills and spills of mountaineering under a safe and controlled environment. With a proper system of routes, devices and an experienced trainer guiding you, Via Ferrata climbing allows anyone to experience the exciting challenge of this sport under the safest conditions.
The Via Ferrata is a protected mountain pathway made out of a series of rungs, cables and bridges. This Via Ferrata is designed to allow you safe access to sections of the mountain that are inaccessible to hikers who are on only the normal summit trail. Via Ferrata climbing is one of the safest mountaineering sports with a 150-year history.
The name Via Ferrata or Via Ferrate (plural) originates from the Italian word "Via Attrezzeata" (fully equipped road), which means routes that are secure b handrails, ladders, cables or lifelines.
Launch in mid-December 2007, The Mountain Torq's Via Ferrata is a mountain trail made up of iron rungs, palettes (footholds), cables and rails that are wrapped around the North face of Mount Kinabalu. It has sealed its place in record and history books as the highest via ferrata in the world and the first real via ferrata in Malaysia possibly the whole of South East Asia.
Starting originally with 3 routes; Walk The Torq, The Low's Peak Circuit and The Preamble, Mountain Torq has now discontinued The Preamble route which is in essence an ascent of Low's Peak Circuit route. Therefore, there are now only 2 routes available with variations in length of stay.
Pendant Hut at 3,270m a.s.l is Mountain Torq's exclusive accommodation with a capacity of 40 people at one time. Dormitory bunk beds in non-heated rooms. Common bathroom with heaters which can produce at best lukewarm water due to the cold water.
For more information about Via Ferrata, please select the menu section on the left side.
Mount Kinabalu Climb with Via Ferrata Packages 2023/2024 is now available and open for booking! Please submit your inquiry online here or email us directly at This email address is being protected from spambots. You need JavaScript enabled to view it. for more information regarding the pricing of Via Ferrata packages.
Download Itinerary:
MBT16(A) - 2D1N Mt Kinabalu Climb & Via Ferrata - Walk The Torq [WTT]
MBT17(A) - 2D1N Mt Kinabalu Climb & Via Ferrata - Low's Peak Circuit [LPC]
MBT18(A) - 3D2N Mt Kinabalu Climb & Via Ferrata
source: courtesy of Mountain Torq™